

2014-2021 Steven E. Margison, Downers Grove, IL All Rights Reserved
OK, here is where I show off some of my favorite creations.
Magnetic Cap Fountain Pen in
Thuya Burl and Ebony.
Our very popular "Cigar" style
pen in Carbon Fiber
Rollerball Pen in Conway-Stewart
"Azure Blue" Casting
"Sierra Elegant Beauty" with
Awabi White Abalone Shell
"Vertex Delux" Fountain Pen with
our own "Dark Matter" casting.
"Gearshift" pen with historic
Great Dismal Swamp Pine
Wood from Notre Dame Stadium
bleachers adorn these pens
Bolt Action pen with Real Rebar.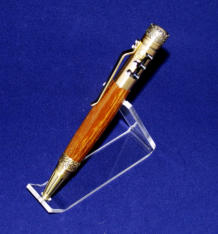 Steampunk pen with
network cable, 2nd place
winner in IAP Competition,
Sept. 2018